Add PIZZAZZ to Your Garden with the Arts Council's New Ceramic Totems Class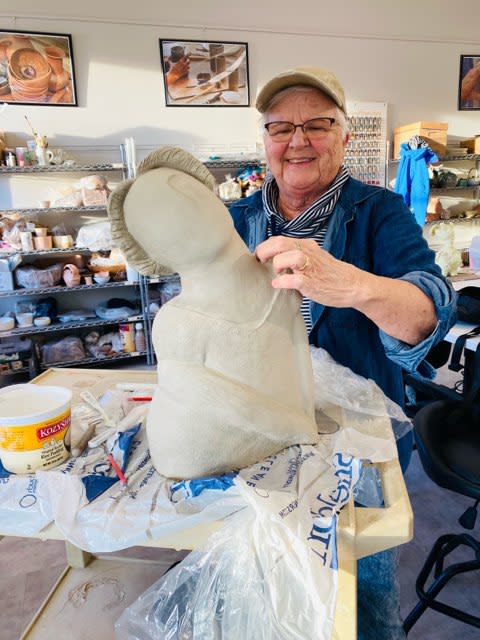 ADD PIZZAZZ TO YOUR GARDEN WITH THE ARTS COUNCIL'S NEW CERAMIC TOTEMS CLASS
Holland-[ The Ceramics Studio at the Holland Area Arts Council has doubled in size and will be offering over 20 new opportunities this coming year, ranging from beginning to master workshops. Along with the expansion, we have added a plethora of new instructors bringing a diverse variety of skill sets. Beginning April 7th, Sherrill Cannon will present a new class, Totems & Yard Art!
Totems & Yard Art is an 8-week class held on Thursday nights from 6-8 pm starting April 7th through May 26th. Students will have fun exploring the history of the totem and making small stackable sculptures, toad houses, fairy gardens, bee houses and bird feeders to assemble and take home and place in their garden. Tuition is $280 for nonmembers and $270 for members.
"Making art is a personal thing", says Cannon. "It's fun to have the freedom to create small things that express your emotions, it's fun to ask yourself 'what if I do this?'. [In my class] you can go in any direction you want! Making several little sculptures for a stackable piece frees you up to wildly express yourself with whimsy, humor and with anything that comes to mind. Creative expression is a one off experience, only the student is capable of making a uniquely personal statement with their clay, uniquely theirs. Making something that has never existed before is exciting."
The Ceramics program has increased by 80%. We are now proud to say, with a little bit of help from Built, our ceramics studio is now fully handicap accessible! New equipment, hydraulic tables, and lots of space provide experiences for all ages and abilities.
For more information regarding the Arts Council's ceramics studio and course offerings, please visit hollandarts.org/ceramics or call (616) 396-3278. Please call (616) 396-3278 to register for your preferred class.
The Arts Council is sponsored in part by The Michigan Arts and Culture Council and The National Endowment for The Arts. Support is largely provided by private donations, local underwriters, art sales, and educational outreach programming.
Follow us on Instagram and Facebook to stay up to date on exciting opportunities. Call 616-396-3278 to register for a class or schedule a gallery tour. ]- END

For interview information: Lori Gramer, Executive Director director@hollandarts.org
Attached:
Qty 2 images of the HAAC Ceramics Studio
Qty 2 images Sherrill Cannon's students with their work
PDF of Totem's Class press release
--
The West Coast Chamber often takes photographs & video during our events for use in brochures and on the Web. 
By registering you agree that the Chamber may use any image of you that might appear in photographs or video taken at a Chamber event.