Baskets for Kids: Kids' Food Basket, LMCU and iHeart Media Collaborate to Raise Funds During High School Basketball Season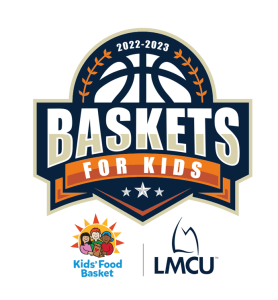 Kids' Food Basket and LMCU are teaming up again to make an impact in the community with Baskets for Kids. After the successful football season collaboration of Touchdowns for Kids, raising $6,800 for Kids' Food Basket, LMCU, 96.1 The Game and iHeart Media are continuing to celebrate the community's athletic achievements during the high school girls' and boys' basketball season.
Baskets for Kids is hosted by 96.1 High School Basketball Game of the Week. For each 3-point basket made during the featured games, LMCU has generously committed to a $50 donation to Kids' Food Basket.
"LMCU is thrilled to team up with longtime partners iHeart Media and Kids' Food Basket again," said Matt Cook, Vice President of Community Relations for LMCU. "We look forward to tipping off Baskets for Kids supporting high school athletics and Kids' Food Basket's work in nourishing children to positively impact their health and well-being."
Kids' Food Basket is a food equity organization that serves 10,000 healthy evening meals each week day to children in Kent, Muskegon, Ottawa and Allegan counties.
"We are grateful to continue this creative and exciting partnership with LMCU and iHeart Media," said Ashley Diersch, Vice President of Development at Kids' Food Basket. "While student athletes are competing for a game win, our entire community wins when we come together to make a difference. We continue to be humbled by how West Michigan teams up to nourish kids to reach their full potential."
To view the schedule or make a gift on behalf of your school/athlete, please visit Baskets for Kids! - Kids Food Basket.
The West Coast Chamber often takes photographs & video during our events for use in brochures and on the Web. 
By registering you agree that the Chamber may use any image of you that might appear in photographs or video taken at a Chamber event.