Bloom Together Women's Spring Soirée
Join The Flourish Society in celebrating all things spring + flourishing on Thursday, April 20th, 2023!
We'll be at Merchant Hall in Washington Square for cocktails + mingling, along with a Mediterranean dinner and program. You'll be able to see old friends, make new ones, and learn how The Flourish Society is impacting women in our community with a sense of belonging and flourishing together. We think you'll love the panel of women's wellness experts that will be presenting and offering discussion on what it looks like to live our best lives in MIND, BODY + SOUL.
Tickets, Sponsorships + more info here.
We are a 501(c)(3) nonprofit organization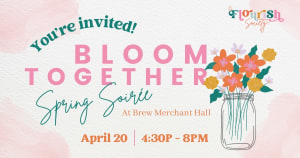 The West Coast Chamber often takes photographs & video during our events for use in brochures and on the Web. 
By registering you agree that the Chamber may use any image of you that might appear in photographs or video taken at a Chamber event.