Celebrating 30 Years of Peaceful Resolutions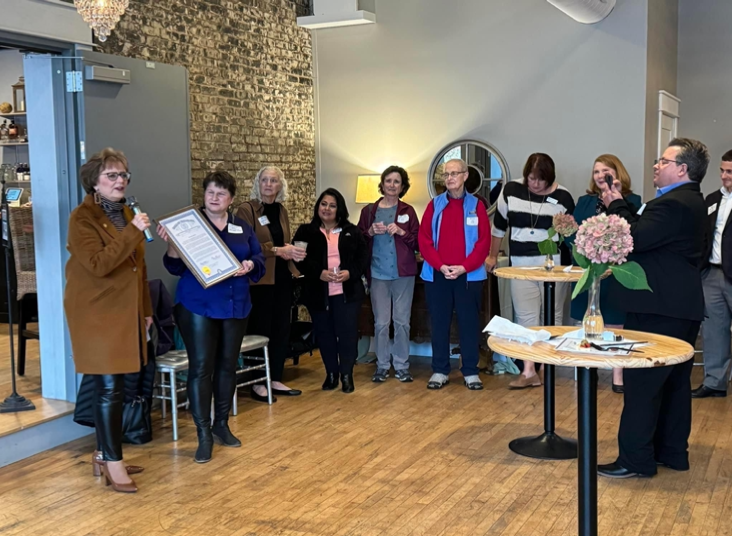 Mediation Services marked 30 years of conflict resolution services with a recent anniversary reception highlighting the organization's past, present and future. At the event, the nonprofit was recognized by the state of Michigan for their important work, honored volunteers and staff, and ushered in a new executive director.
"It was wonderful to witness those responsible for establishing this organization years ago be recognized for their hard work and dedication. The celebration was also a nice way to introduce myself to the community as we move forward," said Mediation Services' new Executive Director Cathy Anthofer-Fialon.
Anthofer-Fialon accepted a proclamation from State Representative Nancy Debor recognizing Mediation Services for their low-cost, effective services, which have expanded from Ottawa and Allegan to Barry counties over the last three decades. Two volunteers were honored for their exemplary service. John Buttrey and Mary Irons were appreciated for leading hundreds of mediations over the years.
"I like helping people reach their own solutions to problems instead of a judge deciding for them. The process continues to inspire me every time I volunteer," said Irons.
Former Executive Director Elizabeth Giddings was also recognized. Giddings led Mediation Services through significant changes including creating a restorative justice program for Ottawa County juvenile offenders which continues to help young people today.
The West Coast Chamber often takes photographs & video during our events for use in brochures and on the Web. 
By registering you agree that the Chamber may use any image of you that might appear in photographs or video taken at a Chamber event.