Chick-fil-A names local True Inspiration Awards recipients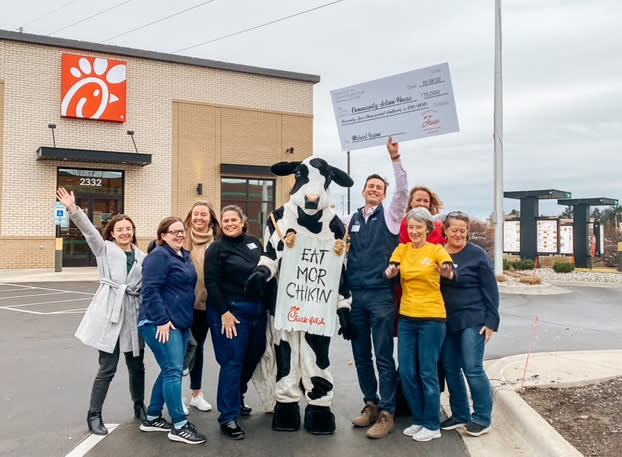 Originally Published by: The Grand Rapids Business Journal
Author: Abby Poirier
Two West Michigan nonprofits were selected by Chick-fil-A to share in a $5 million grant pool.
Chick-fil-A on Tuesday, Jan. 10, said it awarded Family Promise of Grand Rapids and Community Action House of Holland $150,000 collectively as 2023 True Inspiration Awards recipients.
According to a release, Family Promise of Grand Rapids won in the Caring for our Communities category and received a $75,000 grant to support its Partners in Housing Program (PIH). PIH provides Grand Rapids-area families with affordable housing and opportunities for home ownership. With the funding, Family Promise will purchase and renovate three manufactured homes, investing in three families with children for one to two years through supportive case management services.
Community Action House also received a $75,000 grant to expand its food club, which won in the Midwest Region Recipients category. The program invites low-income families to join through a small, sliding-scale membership fee set at a level based on their income. The food club offers extended hours, six days per week, to give members access to healthy food in a grocery store-style space.
These nonprofits are two of 46 winners that are collectively receiving $5 million in grants from Chick-fil-A, a sharp increase from 12 winners in 2022.
"Through our True Inspiration Awards grant program, Chick-fil-A helps empower local nonprofits that are leading positive change and creating tangible impact throughout the communities they serve," said Brent Fielder, senior director of corporate social responsibility for Chick-fil-A. "This year, we added a new grant category, Caring for our Planet, to help support additional nonprofits that act as good stewards of the planet we share. It is our pleasure to invest in the growth and legacy of all our 2023 recipient organizations throughout the U.S."
To be selected for a grant, an organization must work to address key issues that align with Chick-fil-A's corporate social responsibility priorities: caring for people, caring for others through food, caring for our communities and caring for our planet.
Winners from the inaugural Caring for our Planet category include Three Rivers Land Trust in Salisbury, North Carolina, which seeks to sustain state farmlands, and Creighton Community Foundation, a Phoenix-based nonprofit which aims to advance food equity in low-income areas through community gardens.
The True Inspiration Awards program was established in 2015 and has since awarded 250 grants across 36 states, Washington D.C. and Canada. Grants range individually from $30,000 to $350,000.
Other 2023 True Inspiration Awards winners include National Angels in Austin, Texas, Feed My Starving Children in Coon Rapids, Minnesota, and Foundation for Women Warriors in Vista, California.
More information on the 2023 awards is here.
The West Coast Chamber often takes photographs & video during our events for use in brochures and on the Web. 
By registering you agree that the Chamber may use any image of you that might appear in photographs or video taken at a Chamber event.