Choo-Choo! Help Restore the Red Caboose!
Holland Museum is excited to announce an opportunity for the community to support the restoration of the Pere Marquette Red Caboose through GoFundMe virtual fundraiser. The Caboose is located at the Padnos Transportation Center train station off Lincoln Ave in downtown Holland.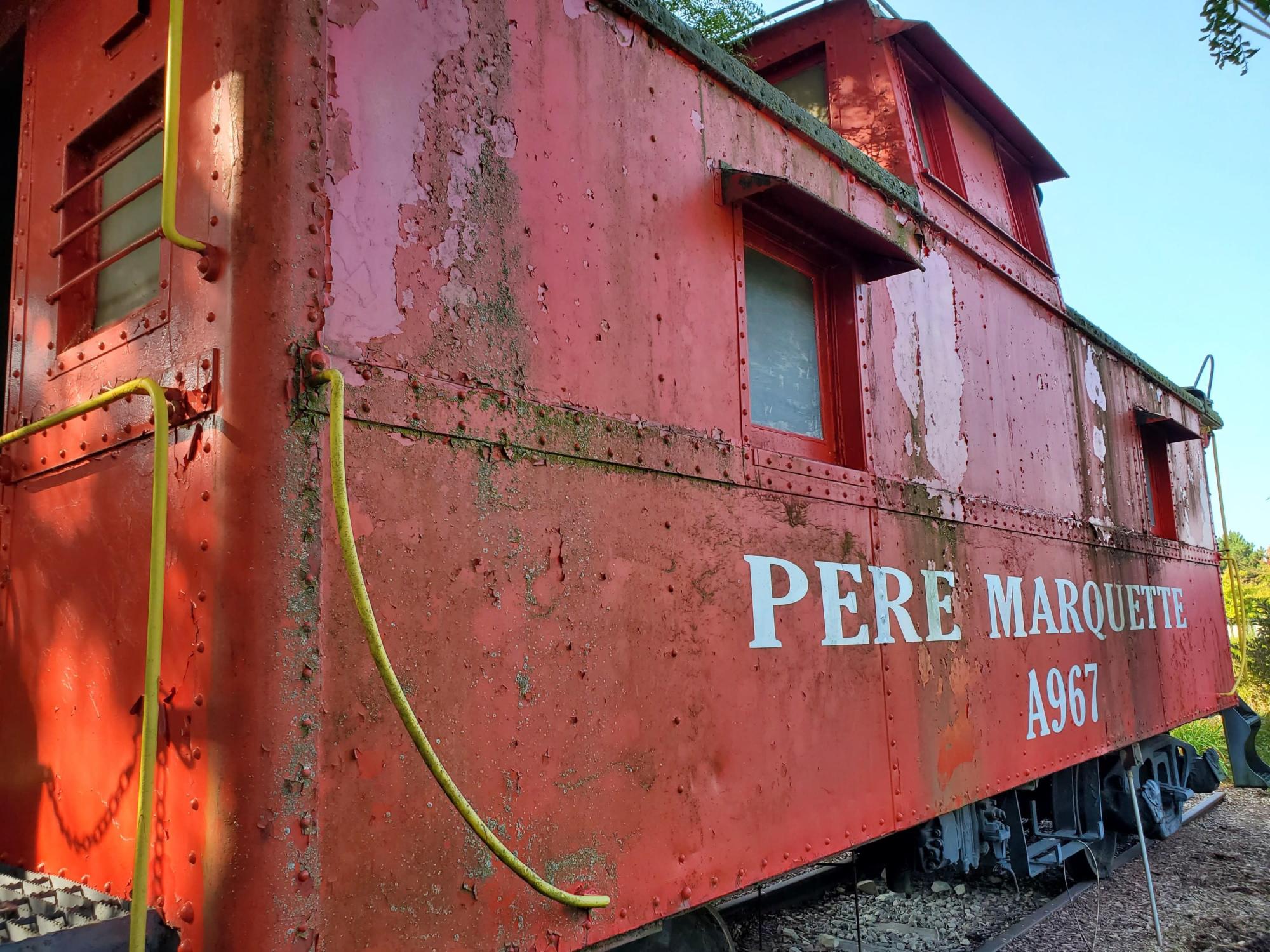 Thanks to the generous donation of paint and supplies from Repcolite Paints, donated, and installed oak window frames, we are off to a great start. However, the cost of restoration is significant, and we need the community's help. The funds donated will go towards ensuring the restoration can be done with detailed historical accuracy, as and include signage and interactive activities to turn the Pere Marquette into a permanent, free public display.
Built in June 1941, the Pere Marquette Red Caboose is a Holland Museum historic artifact. The last restoration occurred in 1998 by volunteers, led by Bob VandeVusse. After 23 years, the caboose's brilliant red shine has dulled. The paint has chipped, and the metal rusted, requiring specialists to safely remove layers of vanish and paint and repair the rust.
To achieve the restoration, power washers and sticky paper were used to remove the paint, and Repcolite used 18 gallons of paint to achieve a fresh coat on the Pere Marquette. New doors were made by DeLeeuw Lumbar, and 18 new window frames are also being built with frosted glass. But this is just the beginning.
"We will use the restored caboose as a permanent, outdoor, free exhibit for the community and visitors to experience Holland history," says Executive Director, Ricki Levine.
The caboose was named Pere Marquette after the train line that connects Chicago to Holland and beyond. Pere Maquette is more than just a historic caboose and train line, though. The name refers to Jaques Marquette, an early settler in Michigan who founded Sault Ste Marie and Saint Ignace in the mid-1600s. CSX Transportation donated the caboose to the Holland Museum
Ways to Help Restore the Pere Marquette:
-Donate to the GoFundMe to help restoration costs
-Donate directly to the Holland Museum, www.hollandmuseum.org
Updated restoration progress will be shared on Holland Museum's social media and on the GoFundMe page.
The West Coast Chamber often takes photographs & video during our events for use in brochures and on the Web. 
By registering you agree that the Chamber may use any image of you that might appear in photographs or video taken at a Chamber event.