Creating a Bright Future Through the Arts
Avalon School of the Arts is excited to invest in our community creating a bright future through the arts.
A dream is a wonderful place to start. Avalon School of the Arts began with a dream in 2004 by founders Ruth Burkholder and her daughter in law, Marie Burkholder. Their dream was to create a safe and nurturing environment for children to explore the Arts. That dream has become a stunning reality.
Avalon School of the Arts now offers classes and private instruction in all areas of dance and theatre. The Avalon Music Academy of Holland offers private lessons in piano, guitar, ukulele, drums, bass, violin, cello, and voice. The school's enrollment is currently 800 students. Avalon recently won the Community Choice Awards for best music school & best dance school for the 7th year in a row.
Now owned and operated by Marie and her husband Rich Burkholder, the school is ready to take the next step in solidifying their presence… literally.
"We are so thankful to everyone in Holland & the surrounding areas for their continued support throughout this wonderful journey. Our students, families, & staff are amazing, and we are thrilled to announce the next chapter of our story.", remarks Avalon Dance Director Marie Burkholder.
In January, Rich & Marie began exploring options for a permanent home for Avalon. Avalon Music Academy Director Rich Burkholder reports, "We wanted to invest in the community that has invested in us. Our goal was to purchase a building centrally located with easy access and enough space to allow expansion." On February first, they found just that building.
144 Coolidge Avenue is conveniently located right off US-31 & 8th Street, just 5 minutes away from Avalon's current location. "At over 11,000 feet, it's a big place and it's set up perfectly for our needs. The music side will house 12 lesson rooms and the dance side will have 5 spacious dance rooms.", Rich describes. "As soon as we walked in the building, I knew this was Avalon's home. Everything about it felt right. Rich and I were ecstatic!", Marie adds.
Avalon School of the Arts is excited to invest in the community in which they serve. Contact the dance and theatre department at (616) 738-6495 / info.avalonschoolofthearts@gmail.com or the Avalon Music Academy at (616) 834-0854 / info@avalonmusicacademyofholland.com to connect with them.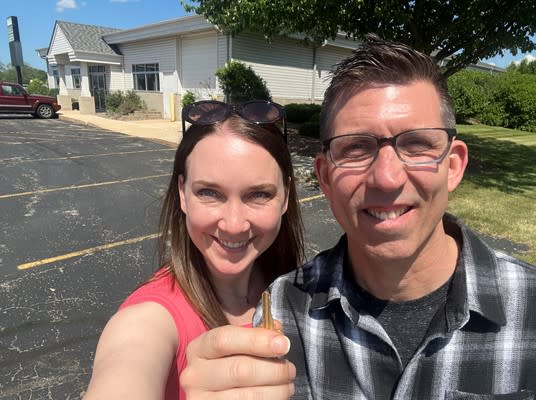 The West Coast Chamber often takes photographs & video during our events for use in brochures and on the Web. 
By registering you agree that the Chamber may use any image of you that might appear in photographs or video taken at a Chamber event.