DISHER Appoints New Senior Leaders
CONTACT: Laura Anthony, DISHER Content Design Manager
PHONE: 616.283.2121
EMAIL: laura.anthony@disher.com
DATE: May 16, 2023
DISHER Appoints New Senior Leaders
Zeeland, Michigan—DISHER, an engineering, manufacturing tech, business consulting, and talent recruitment firm based in Zeeland, Michigan, is pleased to announce the appointment of four new leaders to their executive team: Ryan Snip, Ryan Noble, Barb Riekse, and Elizabeth Rolinski. "DISHER is a leadership company," comments President Joe Dyer, "and each of these leaders brings unique skillsets, great attitudes, and positive influence to their respective roles."
The latest addition is Barb Riekse, DISHER's new Business Lead of Sales and Marketing. Barb Riekse comes to DISHER from Nelson Worldwide with deep experience in architecture, engineering, and design in Chicago and other metropolitan cities around the globe. Riekse brings over 35 years of executive-level leadership primarily within the commercial real estate industry. "The opportunity to help grow an organization that has an incredible reputation, and an established brand of Making a Positive Difference is a great gift," smiles Riekse. "The team is beyond talented, and the problems DISHER solves are extremely cool. I can't wait to share the DISHER story."
Ryan Snip joins DISHER's leadership team as the Business Lead for Advanced Product Development and Electronics. Snip is a home-grown leader who began his professional career at DISHER over 21 years ago. "This was my first job after graduating from GVSU with a degree in Mechanical Engineering," reflects Snip. "While I still get excited to roll-up my sleeves, explore new technologies, and solve problems—I've discovered my sweet spot is in developing people and growing the business. I'm excited about the opportunities to expand our impact."
Since 2008, Ryan Noble has been a strong contributor at DISHER. He now joins the leadership team as a Business Lead for Machine Design, Manufacturing Tech, and Automation. Ryan has actively led the manufacturing technology team in the design and development of custom machine solutions for a variety of clients. "Our team is focused on advocating for what is best for every DISHER client," states Noble. "Seeing our customers perform at a higher level brings me great satisfaction along with working in a positive culture with innovative teammates."
Elizabeth Rolinski joins the leadership team as Managing Partner of Leading by DESIGN, a brand now owned by DISHER. Following a 37-year career in the automotive and advanced energy industries, Rolinski joined Leading by DESIGN in 2020. Rolinski brings leadership experience from her years at General Motors, Prince Corporation (Johnson Controls), and Clarios where she served as global VP of Operations. "Every day, I find myself inspired by the DISHER team and the values that guide them (now us!)," reflects Rolinski. "It's incredibly rewarding to see the transformation in the leaders we coach and the ripple effect they have on those they lead and interact with."
DISHER delivers top talent in engineering, manufacturing tech, automation, recruiting, and business solutions through a nationally recognized team of cross-functional experts. Since 2000, DISHER has partnered with over 1,000 Fortune 500 companies, suppliers, and organizations from a diverse set of industries to achieve desired outcomes. DISHER's mission is to make a positive difference with their coworkers, customers, and communities.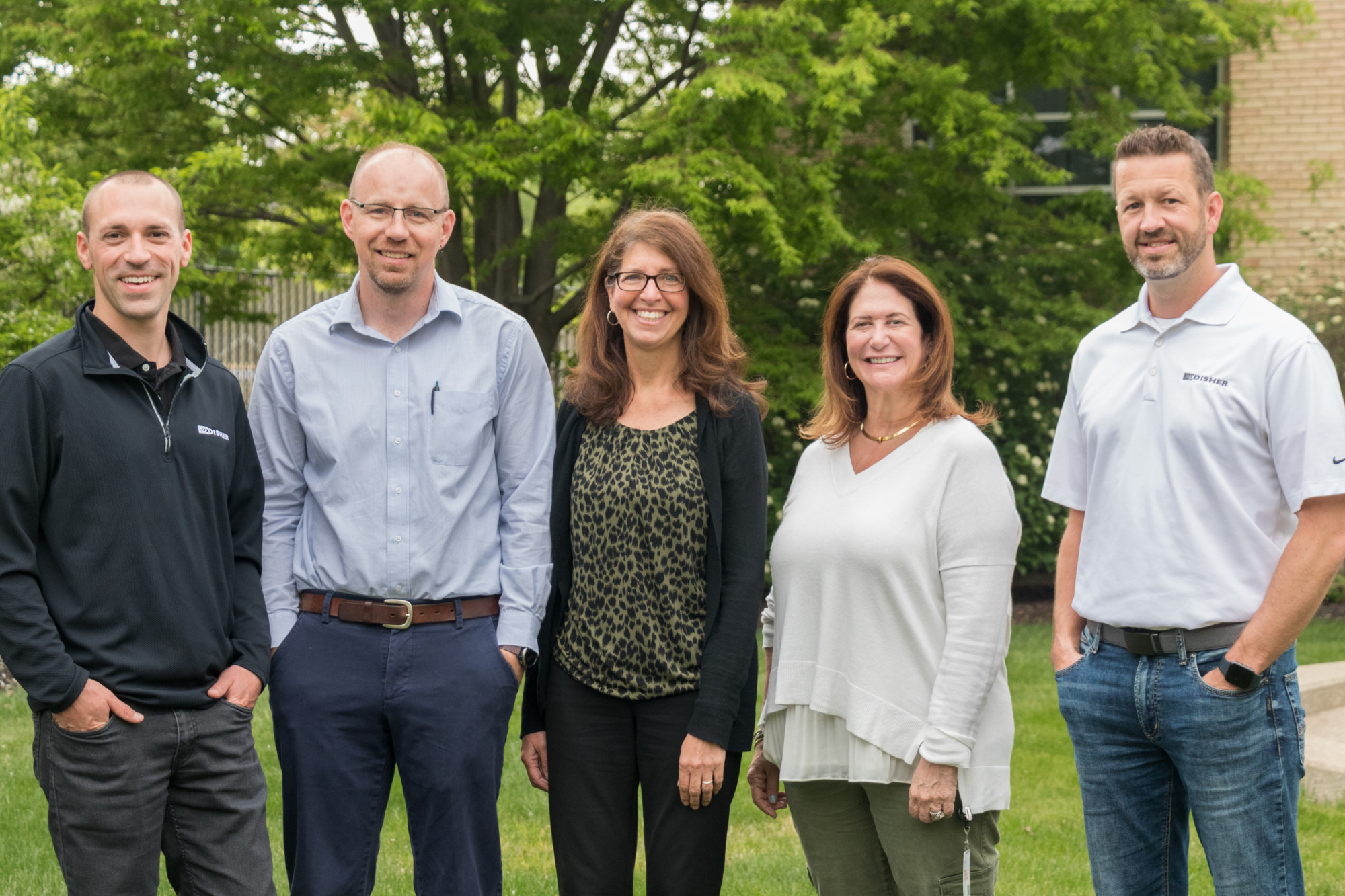 Photo Caption:
(Left to right): DISHER President Joe Dyer adds new Business Leaders to the team: Ryan Noble, Elizabeth Rolinski, Barb Riekse, and Ryan Snip.
The West Coast Chamber often takes photographs & video during our events for use in brochures and on the Web. 
By registering you agree that the Chamber may use any image of you that might appear in photographs or video taken at a Chamber event.