Feel the Zeel of Christmas
Come downtown Zeeland and spread some holiday cheer and shop for a cause! Wednesday December 1st – Friday, December 3rd, 5:30pm – 8:00pm downtown will host its annual Feel the Zeel of Giving event partnering with the non-profit Upward Bound Ministries.
FEEL THE ZEEL OF GIVING is a way for the local, downtown businesses to differentiate themselves from the malls this holiday season. Downtown Zeeland is hosting a variety of events for the whole family, and the emphasis is on giving back to your community.
During FEEL THE ZEEL OF GIVING and you will find horse-drawn trolley rides, Santa's mailbox, extended holiday shopping hours, in-store promotions, live music and more! Also check out Zeeland's City Christmas Tree, located in the center of the Splash Pad at the corner of Elm and Main Street.
Caring Santa- Caring Santa is a sensory friendly experience designed for people with special needs. This is an annual event and will take place on November 30 from 5:30pm to 8pm in the main floor banquet room in the Howard Miller Community Center. Meeting Santa in this environment will have less noise, no time limit, a private setting and a whole lot of caring! Horse drawn trolley rides will also be available for caring Santa guests. Enjoy a trolley ride through downtown, grab your complimentary trolley ticket after visiting with Santa. This event is brought to you by Compassionate Heart Ministries.
Horse-drawn Trolley Rides –Trolleys will pick up passengers near the cross walk in the middle of Main Street (136 E Main Street). Trolley rides are donation only. Tickets will be available by donation on site beginning at 5:30 pm each night; you may purchase tickets for any open time slot for that day only. First come first served. Tickets are only available for same day rides. The trolley will depart every 15 minutes, two trolleys will occupy Main Street on Wednesday night and three trolleys will operate on Thursday and Friday evening.
Visit Santa – Santa will be onsite during Feel the Zeel of Christmas located at 136 E. Main. Take a picture or just chat with him and tell him how good you have been this year!
Write a letter to Santa- Stop by the letter writing station at 136 East Main (Franks Banquet Space) and color a picture and write a letter to Santa. You can put your mail in the mailbox right next to the downtown fire place at the corner of Main and Elm and it goes straight to Santa himself.
This event is brought to you by, Gold Sponsors -Zeeland Ace Hardware, Rachel Karhoff – State Farm Insurance. Silver Sponsors- Zeel Print, Drip Coffee, Bunte's Pharmacy, Engedi Salon, Kiekover, Scholma and Shumaker, PC.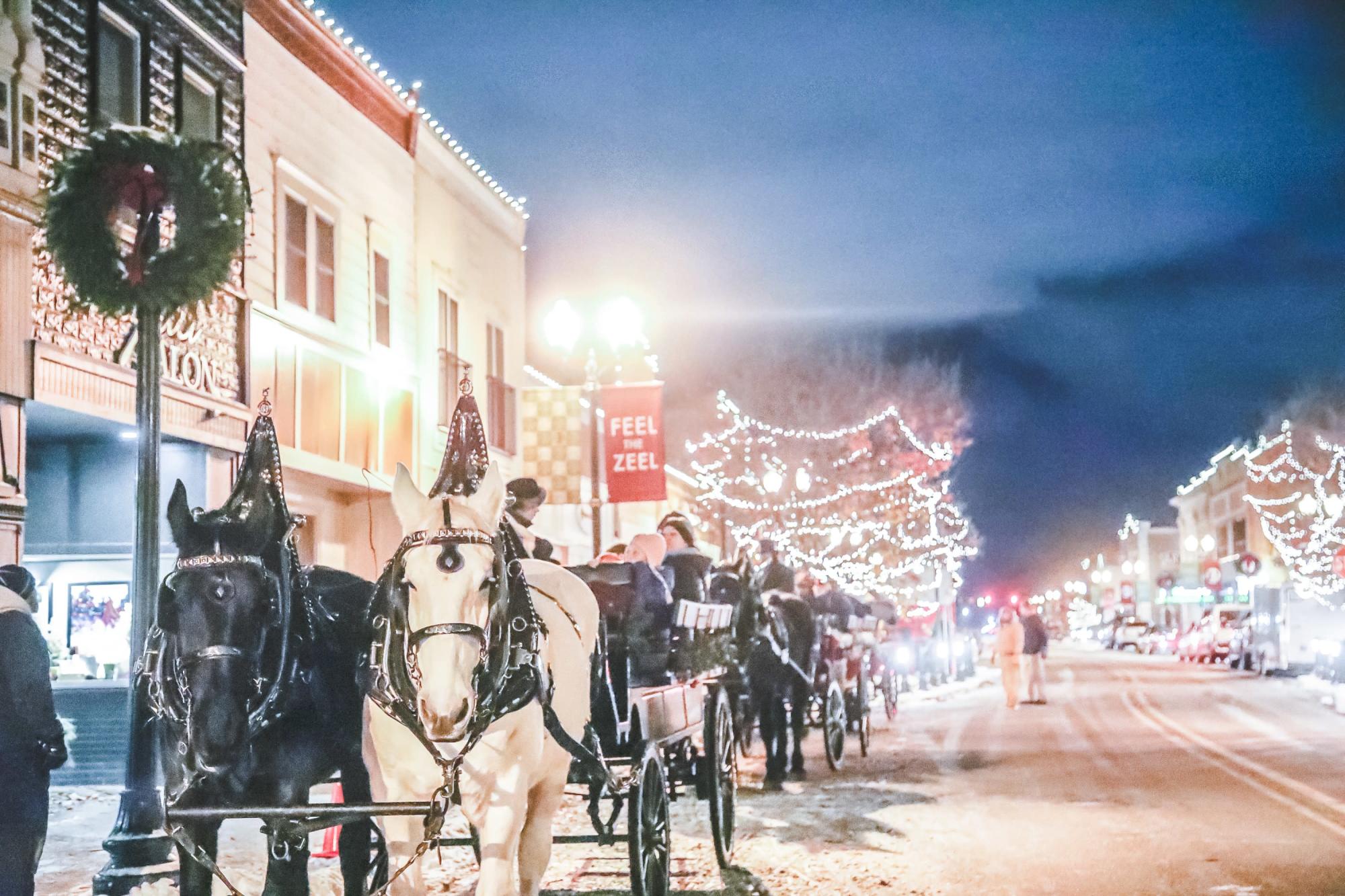 ###
The West Coast Chamber often takes photographs & video during our events for use in brochures and on the Web. 
By registering you agree that the Chamber may use any image of you that might appear in photographs or video taken at a Chamber event.