Going Pro Talent Funds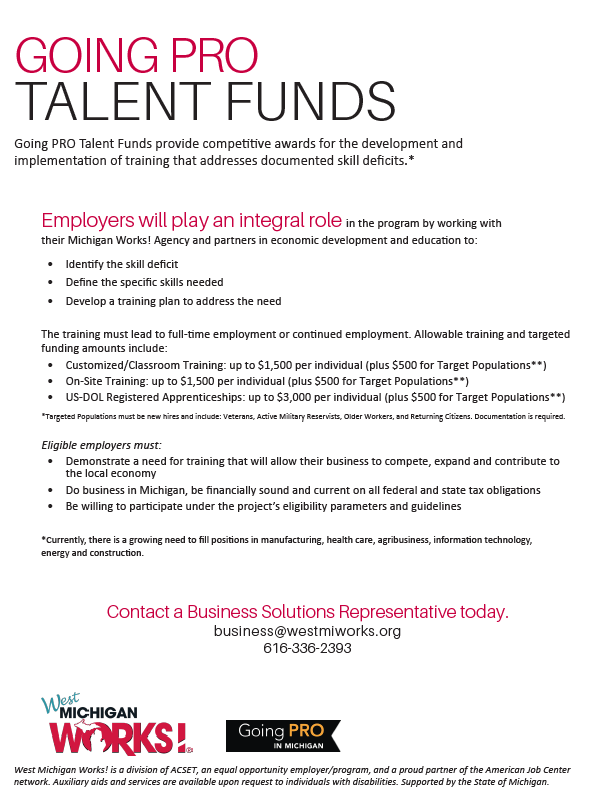 As we await detailed program outlines for this years' grant, there are a few things you can do now to prepare for the application process.
Review our new "How To Prepare" video: https://youtu.be/sPfW9N3IpsI
Applications:

applications will be completed using the State of Michigan's online portal called Work-Based Learning On-line Management System (WBLOMS) November 2nd – 30th. Prior to November 2nd complete the following:

access the WBLOMS website to create a new account or log-in to verify existing sign-on credentials.
once the account has been accessed, submit an Authorization Request Authorization Requests must be approved in order to gain access to an online application beginning November 2nd
guidance on how to access WBLOMS and submit an Authorization Request is attached

Discuss internal training needs for individuals or departments in advance of the application period.
Research potential training providers that can meet your training needs during the grant training period of February 1, 2021 through January 31, 2022
Contact your Business Solutions Representative to set up a virtual meeting to receive further information on how to get started. If you do not have a Business Solutions Representative, please email Business Solutions at business@westmiworks.org
Additional information, fact sheets, guides are available at:
https://www.michigan.gov/leo/0,5863,7-336-94422_95539_64365_64538-312972--,00.html
SAVE THE DATE! West Michigan Works! will host a live, virtual information session to review upcoming changes to the 2021 grant year. The information session will be held on October 21st at 9 a.m. Information on how to register will be forthcoming.
The West Coast Chamber often takes photographs & video during our events for use in brochures and on the Web. 
By registering you agree that the Chamber may use any image of you that might appear in photographs or video taken at a Chamber event.