GVSU welcomes largest, most diverse incoming class in school history
By: Michell Boatman
Grand Valley State University has bounced back from a string of enrollment declines in a big way.
After six straight years of declining enrollment, GVSU's numbers are not only up this year, but the university is welcoming its largest ever incoming class.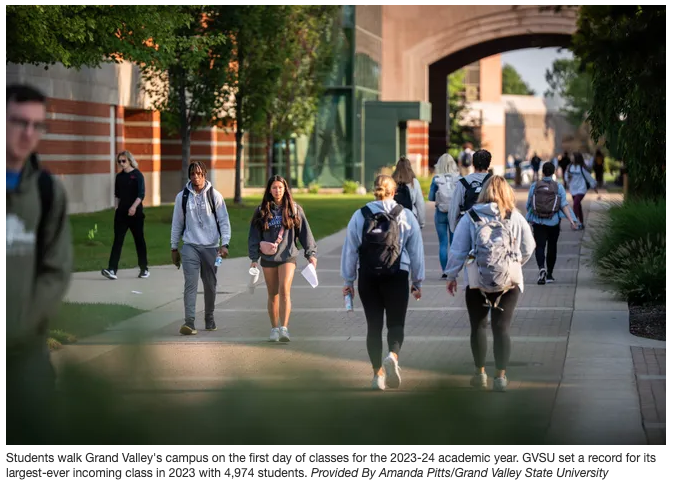 Grand Valley announced Tuesday, Sept. 12, this year's incoming class of 4,974 students is a school record. It's 13.6 percent larger than the school's previous record — set in 2016 — and nearly 25 percent larger than the fall 2022 incoming class.
Total enrollment at GVSU this fall is 22,269 students, up 3 percent from last fall. This fall ends a six-year streak of declining enrollment at GVSU since the 2016 count of 25,460, the largest in school history.
"At GVSU this year, we celebrate significant increases in both the fall incoming class and in our overall student population," GVSU President Philomena Mantella said during a press conference Tuesday. "Our success is not due to any secret sauce or a result of lowering our standards for achieving a GVSU degree academically or as a citizen of the world.
"Three years ago, we introduced Reach Higher 2025, our strategic plan. Through that plan, we made three commitments to those we serve. Both our students and our community are resonating with those commitments and responding to the work we've done in these areas."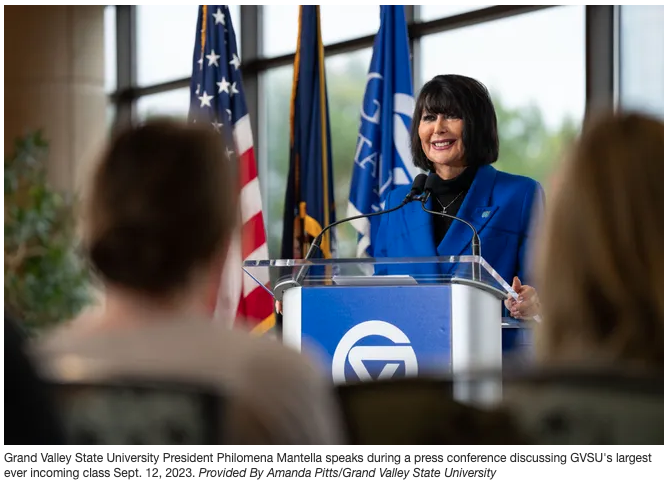 This is also Grand Valley's most diverse incoming class and student body. There are 1,397 students of color in this year's incoming class — a record 28.1 percent of the total. The total student body is 22.7 percent students of color, also a GVSU record.
"Our focus on affordability, student support, multiple educational pathways, along with a vibrant learning community, together created by our dedicated faculty and staff, creates a deep sense of belonging to this university and this community," Mantella said.
Although the increase is a good sign for GVSU, Mantella said the university's work isn't done.
"We know that one year doesn't make a trend and I can assure you, as my colleagues will tell you, we are not about to rest on our laurels," she said. "We will keep pushing to create a better tomorrow for our university, our community and the world around us."
From: The Holland Sentinel
The West Coast Chamber often takes photographs & video during our events for use in brochures and on the Web. 
By registering you agree that the Chamber may use any image of you that might appear in photographs or video taken at a Chamber event.