Habitat for Humanity, Thrivent, and local churches come together in celebration of one Holland family's dream of homeownership


NEWS RELEASE
Habitat for Humanity, Thrivent, and local churches come together in celebration
of one Holland family's dream of homeownership
Holland, MI (July 15, 2020) – Lakeshore Habitat for Humanity, Thrivent, and local Christian churches will
dedicate a home on July 22nd at 7pm as part of the ongoing partnership between Habitat and Thrivent,
which helps families in the U.S. and across the globe obtain strength, stability and self-reliance through
shelter.
To allow more people to engage safely in the celebration, Lakeshore Habitat will be hosting a reverse
parade. Anyone wishing to join in the celebration is asked to park at Maplewood Reformed church (133
E. 34th St., Holland, MI 49423) and line Columbia Ave. between 34th and 37th streets by 7pm with signs,
balloons and noise makers to help welcome the family to their new home. Shortly after 7pm, Lakeshore
Habitat will drive the Morales family down Columbia on the Habitat float, to their new home at 132 E.
37th street, Holland, MI 49423. An outdoor dedication will then take place at their new home.
Through the partnership of Habitat and Thrivent, local churches, and other volunteers, the Morales
family is realizing the dream of owning their own home. Over 480 volunteers put in 2,249 volunteer
hours to build this home for the Morales family.
When asked about what owning their own home would mean to their family, Edwin Morales shared,
"We are excited, happy and ready for this new chapter with our kids. Our three kids will not have to
share one room and we will live in a neighborhood where there are other kids for them to play with. We
have actually been visiting the neighborhood 2-3 times a week to get to know the neighbors and allow
our kids to start making friends. This home will also bring financial stability and less stress for our
family."
To date, this will be Lakeshore Habitats 152nd home built since their founding in 1990.
"In a time like we are in, it is even more important to provide a safe place for a family to call home. We
are excited to be able to help the Morales family take a step into homeownership and for the memories
they will make in their new home. We are greatful for the partnership with Thrivent as this provided an
$85,000 match that engaged 22 local churches in coming together to support this build through prayer,
volunteering and financial support. It is because of Thrivent and the local churches we can provide
strength, stability and independence to the Morales family."- Don Wilkinson, Executive Director,
Lakeshore Habitat for Humanity
Thrivent committed over $12 million to the 2019 partnership with Habitat. Since the partnership began
in 2005, and through 2018, Thrivent and its members have contributed more than $252 million and
more than 5.5 million volunteer hours to Habitat.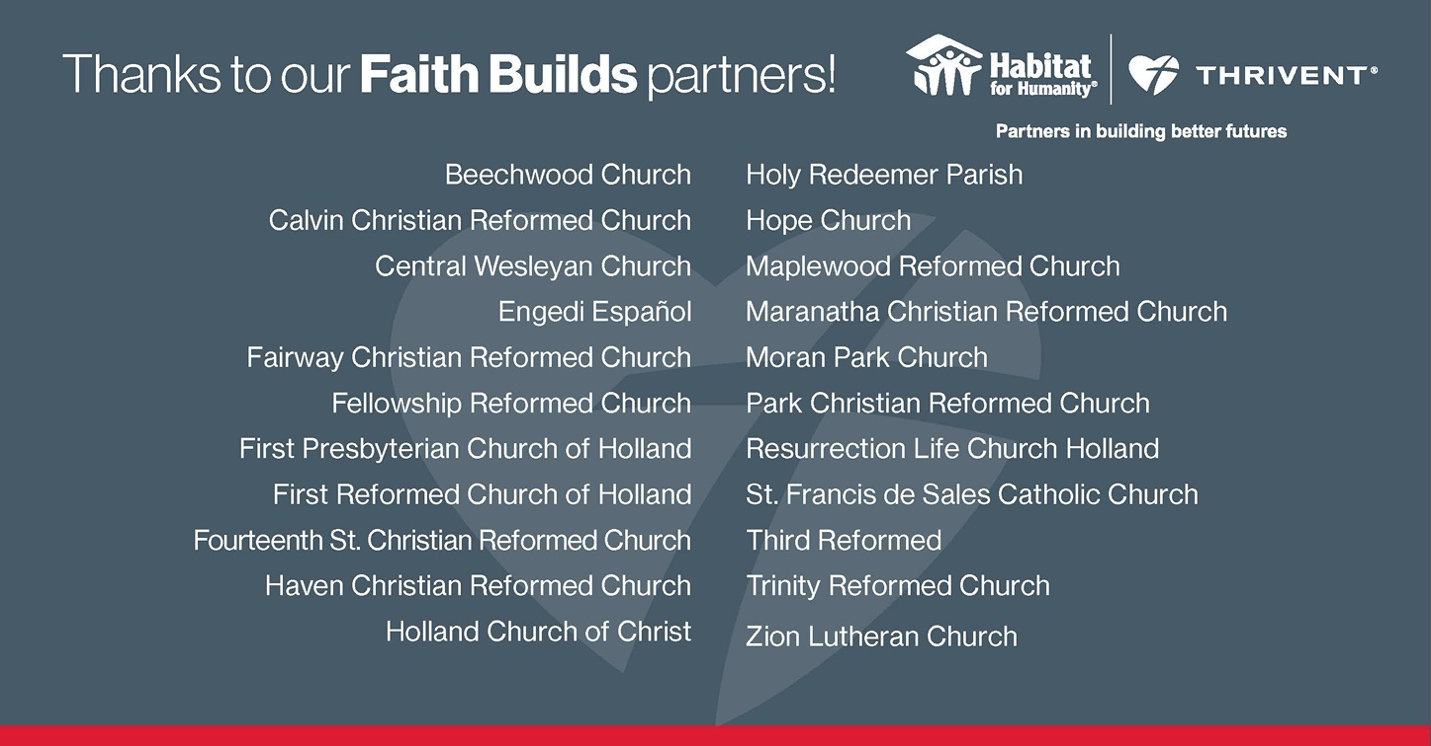 "We are so grateful to have had the opportunity to partner with Lakeshore Habitat on this house for the
Morales family. This project started because our Ron Blue office is so passionate about our neighbors
having safe and healthy homes. It is such a privilege for us to see what can happen when churches
partner together and with nonprofits for the sake of the community." Rev. Izzy Rhodes, Community
Engagement Team, Thrivent.
Thrivent remains the largest non-governmental supporter of Habitat for Humanity International.
For more information about the Habitat and Thrivent partnership, visit Thrivent.com/Habitat. To learn
about local volunteer opportunities, visit www.lakeshorehabitat.org.
Lakeshore Habitat for Humanity is a non-profit Christian organization in Holland, Michigan with a
mission to bring people together to build homes, communities and hope. Lakeshore Habitat's core
competency is building and restoring houses which requires partnerships with organizations, churches,
businesses and individuals. Visit us at www.lakeshorehabitat.org for more information about our
programs and services.
About Thrivent
Thrivent believes money is a tool, not a goal. Driven by a higher purpose at their core, Thrivent is
committed to providing financial advice, investments, insurance, banking, and generosity programs to
help people make the most of all they've been given.
At the heart, they are a membership-owned fraternal organization, as well as a holistic financial services
organization, dedicated to serving the unique needs of their clients. They focus on client goals and
priorities, guiding them towards financial choices that will help them live the life they want today - and
tomorrow. For more information, visit Thrivent.com.
###
Contacts:
Lakeshore Habitat for Humanity
Dave Rozman, Development Director (Prior to July 18)
616-393-8001 ext. 106
development@lakeshorehabitat.org
Travis Steinhoff, Volunteer and Outreach Coordinator (week of July 20th)
616-393-8001 ext. 103 or 269-369-1937 (cell)
volunteer@lakeshorehabitat.org
Thrivent
Rev. Izzy Rhodes
847-312-6953
Izzy.Rhodes@thrivent.com
The West Coast Chamber often takes photographs & video during our events for use in brochures and on the Web. 
By registering you agree that the Chamber may use any image of you that might appear in photographs or video taken at a Chamber event.