Holiday Magic has Arrived at Carolyn Stich Studio in Downtown Holland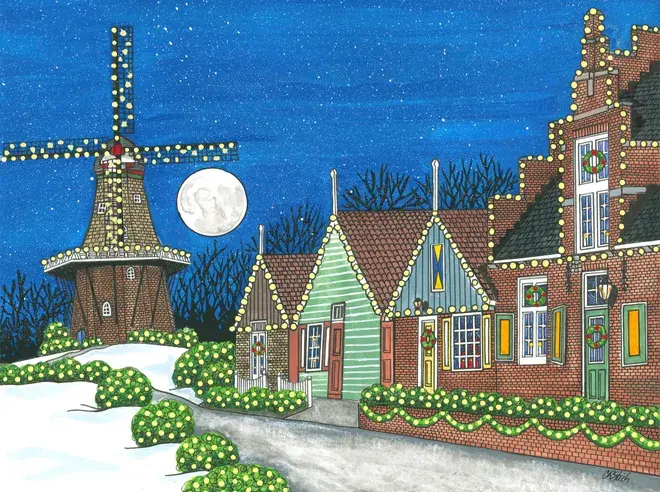 For the 22nd year, local artist and business owner Carolyn Stich has created a Holland-themed holiday card, commissioned by the Holland Area Convention & Visitors Bureau, to support an organization in need.
"We're thrilled to have Carolyn capture the spirit of holidays once again for this season's card," said Linda Hart, Executive Director of the visitors bureau. "This year she used her distinctive style to illustrate the magic behind Holland's newest December event."
This year's card is titled "Magic at The Mill" in honor of Holland's inaugural musically synced light show at one of Holland's most treasured spaces. The scene draws the eye past a twinkle lit village to DeZwaan, the glowing icon of Windmill Island Gardens. Inside, the message reads, "Wishing you a magical Holiday Season."
"I am so excited to see Magic at the Mill come to fruition," Stich said, "and am thrilled to be a small part of introducing this wonderful vision to the community."
The cards can be purchased exclusively at the Holland Area Convention & Visitors Bureau (78 East 8th Street), the Carolyn Stich Studio (29 West 8th Street), Van Wieren Hardware (645 Douglas Avenue), and during the Kerstmarkt (8th Street Market Place) and Magic at the Mill (1 Lincoln Avenue) events. Retail prices for the cards are $3 for a single card and $18 for a package of 10. Proceeds will go to the Critter Barn.
Inquiries about the card may be directed to the Holland Area Convention & Visitors Bureau at (616) 394.0000, Monday through Friday 9 am to 5 pm, Saturday 10 am to 3 pm, and online anytime at www.holland.org or info@holland.org.
The West Coast Chamber often takes photographs & video during our events for use in brochures and on the Web. 
By registering you agree that the Chamber may use any image of you that might appear in photographs or video taken at a Chamber event.