Holland Aquatic Center to Celebrate Renovation Project with Special Event
Holland Aquatic Center is celebrating the completion of its renovation and expansion project with a fun and family-friendly event.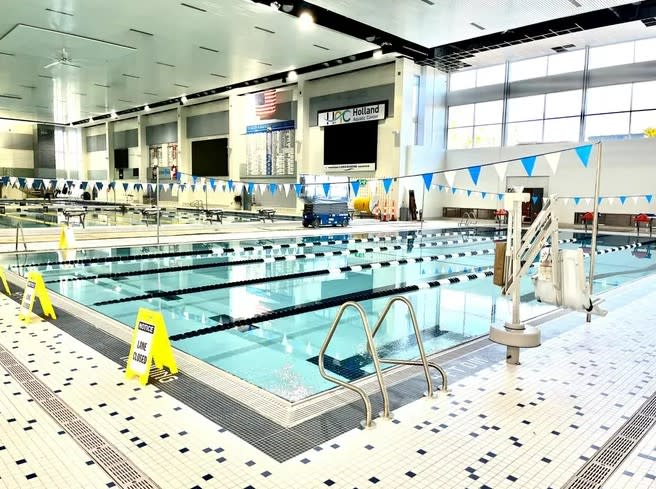 HAC is hosting "El Carnavel" from 11 a.m.-3 p.m. Saturday, May 20. The aquatic center is located at 550 Maple Ave.
"El Carnavel" is a special grand opening event of HAC's three-year, $26.3 million renovation and expansion project. The event will include "mega splash" activities for all ages inside HAC's pool areas. Six food trucks will be in the HAC parking lot. There will also be giveaways, live entertainment and a raffle to benefit HAC's swim lesson scholarship program.
All guests are welcome. HAC admittance and mega splash are free to Holland Public Schools residents and members. Standard rates apply for non-residents.
"With our construction recently wrapping up, we wanted to set aside a day to celebrate two things especially — all the hard work that went into this project by all of our work teams and all the residents in the Holland Public Schools district who made this project possible," said Jack Huisingh, executive director of HAC
"We are grateful for our community's support, not only with the bond proposal that passed four years ago to make this renovation possible, but also for the recent operational millage renewal that makes our day-to-day operations possible.
"We appreciate the trust that's been given us to be one of the nation's best aquatic and wellness facilities serving every age, every family, every day."
Roughly 76 percent of voters supported HAC's operational millage renewal in the May 2 election, according to Ottawa County election results.
HAC began its taxpayer-supported expansion and renovation project in spring 2020.
Several areas opened to the public in February of last year, including an expanded fitness area, indoor walking track, warm-water zone, steam room, sauna, spa and splash zone.
The expanded lobby, wellness room and indoor track were all funded by $3 million in gifts made to the HAC Foundation. The front entrance canopy and mechanical system upgrades were the last improvements made.
Contact reporter Evan Sasiela at esasiela@sentinel-standard.com
Holland Senitnel
The West Coast Chamber often takes photographs & video during our events for use in brochures and on the Web. 
By registering you agree that the Chamber may use any image of you that might appear in photographs or video taken at a Chamber event.