Kids' Food Basket to Expand Operations in Muskegon with New Facility
Kids' Food Basket (KFB) is formally announcing its intention to increase operations in Muskegon County through the expansion into a new facility. Once renovated, this expanded space will allow KFB to increase access to healthy food for the lakeshore community.
The intended KFB Muskegon location is located at 209 E. Apple Ave. The purchase is expected to close this year, pending legislative approval of state House Bill 4861 (2023).
In its silent phase, Feeding Our Future: A Campaign for Muskegon Children raised $1.7 million out of its $2.7 million necessary to complete the purchase and renovation of the Apple Avenue property.
"This significant progress toward our fundraising goal speaks loudly to the dedicated, passionate community that has come together to insist that the health and wellbeing of Muskegon kids is not negotiable," said Bridget Clark Whitney, President and Founding CEO of Kids' Food Basket. "Over the past few years, we hosted community listening sessions, and residents have asked us to deepen our commitment to healthy food access in Muskegon County. We are endlessly grateful for this support and look forward to continuing the momentum as we move closer to making this critical expansion on the lakeshore a reality."
Today, over 16,000 children in Muskegon County live at or near the poverty line. In the 2022 to 2023 school year, almost two-thirds of the total student population in Muskegon County qualified for free or reduced-price lunch based on household income.
"As a school district, we can feed every child breakfast and lunch Monday to Friday, but we are unable to get our children dinner," said Matt Cortez, Superintendent for Muskegon Public Schools. "KFB has filled that void for many of our Bunker [formerly Nelson] students for multiple years, yet still there is a drastic need for expansion of service. This campaign will grow their ability to serve more students and encompass the remaining elementary buildings in our district as they grow."
After acquiring the property, KFB expects to begin renovations on both the exterior and interior of the building, concluding in fall of 2024. The subsequent move will allow for increased operations numbers with service in the expanded space during the 2024 to 2025 school year.
Feeding Our Future: A Campaign for Muskegon Children has been met with support from local thought leaders, including the Community Foundation for Muskegon County.
"As a reflection of the values of the Community Foundation, creating hope and opportunity for Muskegon County youth is a top priority," shared Todd Jacobs, President and CEO of the Community Foundation for Muskegon County. "Food insecurity can lead to educational gaps and compromised health. Its impact can be felt in every community and disproportionately among communities of color. Providing this support is directly aligned with our strategic goal of promoting prosperity for all."
For more information, including a list of campaign donors, please visit kidsfoodbasket.org/mk-feeding-our-future/.
About Kids' Food Basket
Kids' Food Basket (KFB) was founded to nourish children to reach their full potential. We are a community-based food equity nonprofit supporting our West Michigan neighbors in Kent, Muskegon, Ottawa and Allegan counties who are under-resourced and impacted by poverty and food insecurity. Our services include our flagship Sack Supper program, community-driven farming, family food provision and educational programming.
Kids' Food Basket is now serving about 10,000 daily evening meals to 60 schools in four counties. We work toward a future in which all children have access to the nourishment that fosters their lifelong health and limitless potential.
To learn more about KFB's programs, services and how you can make a difference, please visit kidsfoodbasket.org.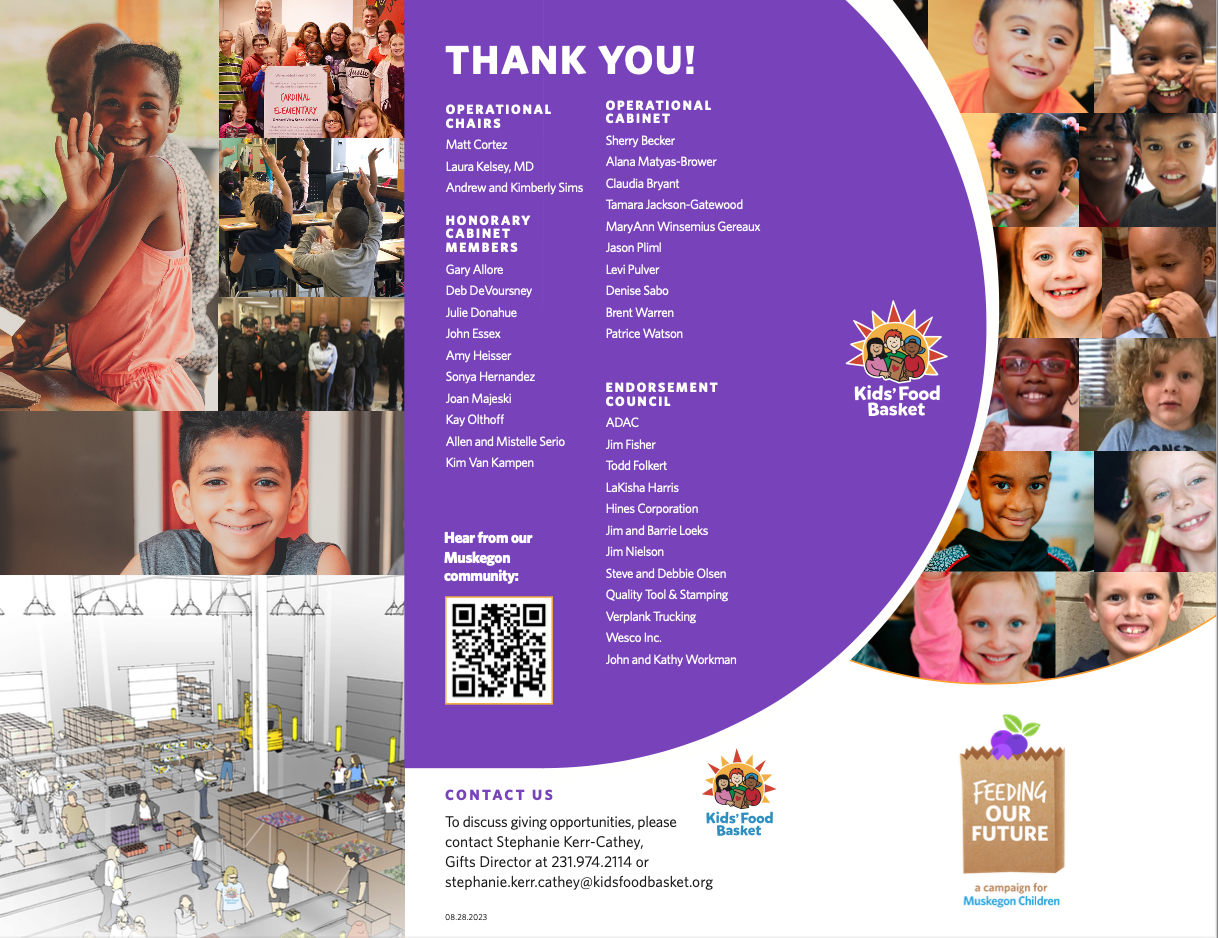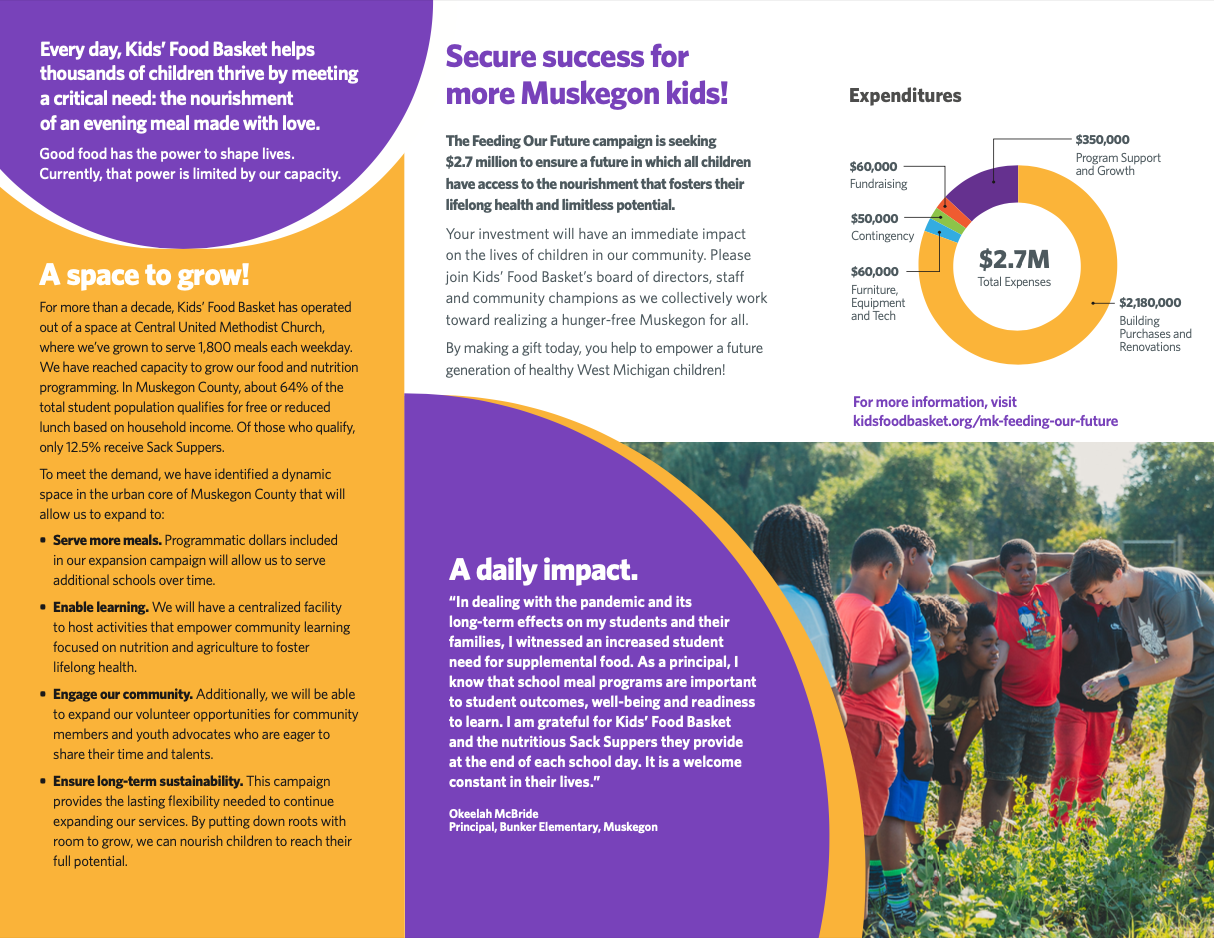 The West Coast Chamber often takes photographs & video during our events for use in brochures and on the Web. 
By registering you agree that the Chamber may use any image of you that might appear in photographs or video taken at a Chamber event.