Looking to feel healthier in the New Year? There's an IV drip for that!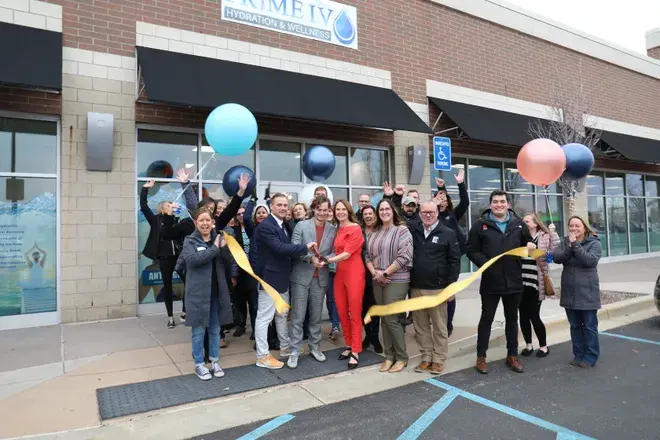 Published by: The Holland Sentinel
Author: Cassandra Lybrink
Prime IV Hydration and Wellness is exactly what it sounds like — a clinic where members and customers are hooked up to an IV drip to aid in issues like aging, hydration, fatigue and weight loss.
"What most people don't realize is, if you take your vitamins orally, you only absorb between 5 and 20 percent of that vitamin, depending on your own gut health," said co-owner Eric Langellier. "So, if you think you're taking the appropriate dosage, you're actually only getting a fraction of that. With an IV, you get 100 percent."
Langellier opened the franchise branch with his wife in late 2022.
"By trade, I'm actually a dentist, so I've worked in the healthcare field for 20 years," he said. "And just overall as a family, we have an outlook of, we'd rather be healthy and keep ourselves from getting sick than get sick and try to get better.
"We're also a family of entrepreneurs and we saw this franchise and we thought it really fit with our ethos. We pretty much get weekly drips and can't believe how much better we feel because of them."
The business at 12359 James St. (Suite 30) in The Shops at Westshore accepts walk-ins, but prefers when customers schedule an appointment — as they'll need to fill out some paperwork and go through a clinical screening, included with their first drip.
"For most people, you don't walk out of the first drip thinking it was the most amazing thing," Langellier said. "But when you think about getting healthy, it's not a one-day fix. One drip can't overcome a decade of living an unhealthy lifestyle, but consistent month-to-month use can make a big difference."
Drips range from anti-aging to hydration to athletic performance to weight loss to hangover aid.
"Our staff is all local nurses that've been nursing for anywhere from 15-20 years, so we have a very experienced staff doing the administration," Langellier said.
The clinic isn't insurance-based, though customers can use their HSA and FSA cards, Langellier said. Treatments cost anywhere from $150-$300 per month, but can vary based on your membership package.
"We just want to help people focus on living a healthy life," Langellier said.
Learn more at primeivhydration.com.
The West Coast Chamber often takes photographs & video during our events for use in brochures and on the Web. 
By registering you agree that the Chamber may use any image of you that might appear in photographs or video taken at a Chamber event.