New Exhibit Opening at the Holland Museum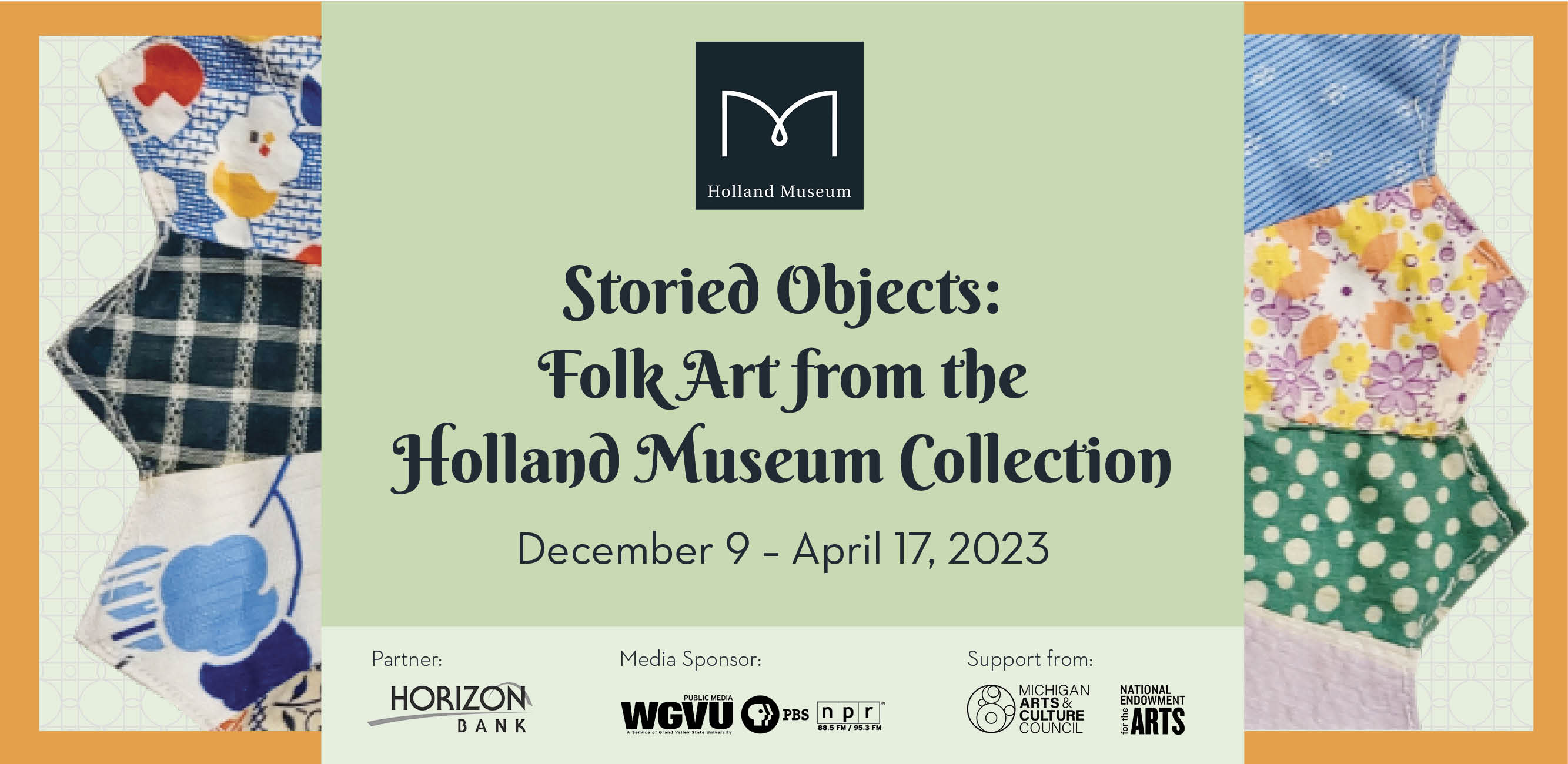 The Holland Museum is announcing the opening of their newest exhibit, Storied Objects: Folk Art from the Holland Museum Collection on December 9.
Opening December 9th, Storied Objects: Folk Art from the Holland Museum Collection will explore rarely seen folk art from the Holland Museum collection, including quilts, pottery, puppets, carvings, and basketweaving.
Folk art spans every culture across the globe, merging the utilitarian with the decorative, and reflects the heart of the community from which it comes. Each piece has a story; an artist behind the piece, the culture from which it came, and a purpose.
"We look forward to exploring this important artform with visitors through the work we have in our collection," says executive director, Ricki Levine.
Unlike most genres of art, which can be easily identified by a specific time period or style, folk art is broad, and can be difficult to define. The term can simultaneously refer to centuries' old textiles from the Middle East, 20th-century American wood carvings, or contemporary artists working with clay in Mexico.
Many folk artists are self-taught or have developed their skills through apprenticeships and community learning. While fine artists are traditionally more concerned with the 'rules' of art, a folk artist may be less concerned with the style, and instead focuses on expressing their values and cultural identity through their work. Holland Museum has collected hundreds of pieces of folk art through the decades, the stories and people behind the objects on display in this exhibit.
The exhibit will be on display until April 17, 2023. Thank you to the Partner Sponsor: Horizon Bank and Media Sponsor: WGVU/PBS TV and NPR Radio.
Exhibit Related Programs:
Check out the Holland Museum's website for exhibit details and to register for upcoming programming.
Folk Art Family Day, Saturday, March 18, 10 am-1 pm, Included with Museum Admission See demonstrations by local folk artists, participate in a Folk Art Scavenger Hunt, and create your own quilt square and Netherlandish Staphorst Stipwerk design.
Highlights from Storied Objects: Folk Art from the Holland Museum Collection with Winde Gehringer, Exhibits Coordinator and Michelle Stempien, Education and Community Programs Manager, Monday, March 20, 6:30-7:30 pm, In-Person Off-site at Herrick District Library, 300 S. River.
The West Coast Chamber often takes photographs & video during our events for use in brochures and on the Web. 
By registering you agree that the Chamber may use any image of you that might appear in photographs or video taken at a Chamber event.