Spring is Almost Here and First Tee is Back! Register Today!
We are thrilled to announce that registration for our Spring Session is open! Before you register, we'd like to take a moment to share some exciting updates to our classes that we think you'll love. Beginning this year, First Tee will be reformatting its classes to be delivered by age, similar to other youth programs. With this new structure, classes will be broken up into four distinct age groups:
• 7-9: Early Elementary School-Aged
• 10-11: Older Elementary School-Aged/Early Adolescence
• 12-13: Middle School/Early Adolescence
• 14+: High School/Middle Adolescence (*still enrolled in high school)
Why Have We Switched to Age-Based Programs?
We want to give your child the best experience possible at First Tee. Our new format groups kids of the same age range to create a fun and impactful learning environment where they feel safe to fail and grow. This approach is based on extensive research and feedback, and we believe it's the most effective way to help young people reach their full potential. We're excited to see the positive impact it will have and appreciate your support. See you on the green this Spring! If you have any questions about our switch to age-based programs, click them link below to directly email our Program Director, Taylour!
The 2023 outdoor season is set to kick off in just over two months, and we can hardly contain our excitement! Our team has been hard at work preparing for another amazing season, and we can't wait to welcome you back to the golf course. Whether you're kid or teen is brand new to golf, or they've been in the First Tee program for years, we're excited to welcome everyone back after the long winter. Don't delay, register for our Spring program today and get ready to hit the greens when the season arrives.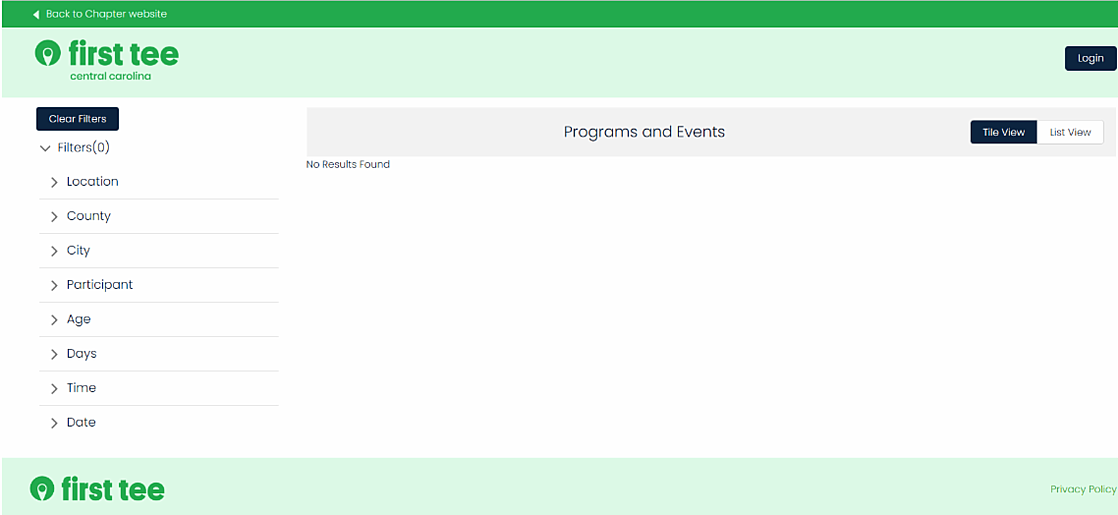 First Tee Headquarters has updated the Salesforce registration portal, making the checkout process easier and quicker for parents. The picture above displays the layout of the improved home page. The login button is located in the top right-hand corner of the page. All students will now register through this updated registration portal. Scholarship students will be able to request financial aid during the checkout process. If you have registered with us using the Salesforce registration portal before, you do not need to make a new account. New users to Salesforce must create a new account by clicking login and following the prompts on the next page. A new feature they did include in this updated layout is filtering, which is located on the left-hand side of the screen. You will be able to add filters to your search, whether it be by location, participant, age, day, or times. This will help you navigate through every class or session relatively easy!
View Schedule and Register Your Participant: https://firstteewestmichigan.org/spring-programs/
The West Coast Chamber often takes photographs & video during our events for use in brochures and on the Web. 
By registering you agree that the Chamber may use any image of you that might appear in photographs or video taken at a Chamber event.