Workplace Health Screening: Axios HR
As the global concern about COVID-19 continues, we are committed to promoting a healthy and safe workplace. Michigan's recent Executive Order May 7, 2020, ( EO 2020-77 COVID-19), indicates manufacturing facilities must conduct daily entry screening protocols for workers, contractors, suppliers and any other individuals entering the facility.
With Workplace Health Screening, our staff will assess symptoms and measure employee's temperature prior to them starting work. Under the Executive Order various businesses are excluded from this requirement, but they are adopting this process as a safety measure for their employees.
If you need support with Workplace Health Screening, please contact us.
Thank you for your continued trust, should you have any questions please feel to reach out to us or share this information with your members.
Facebook: https://www.facebook.com/workplacehealthscreening/
LinkedIn: https://www.linkedin.com/showcase/workplace-health-screening/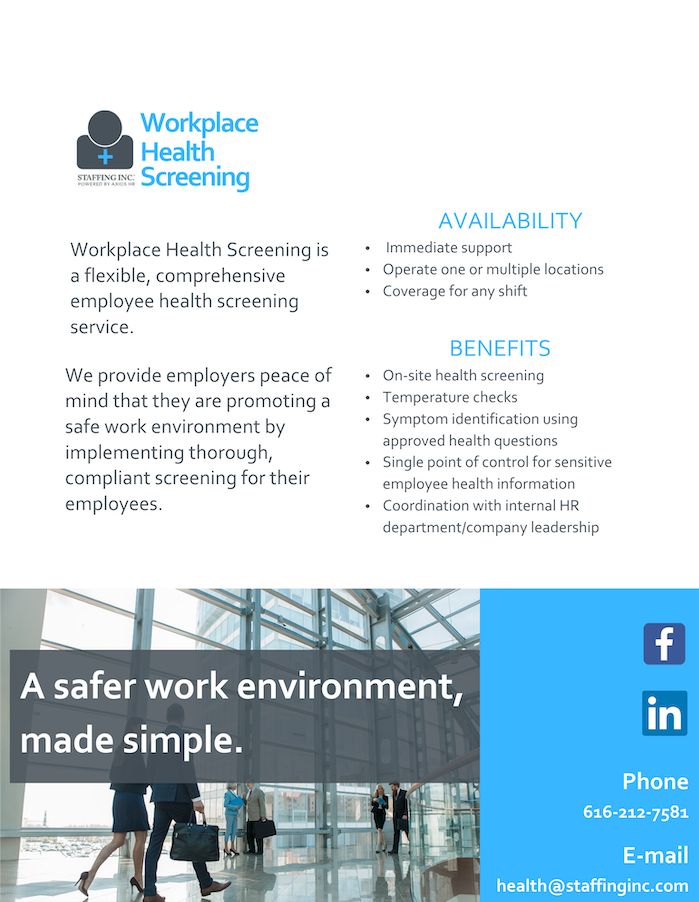 The West Coast Chamber often takes photographs & video during our events for use in brochures and on the Web. 
By registering you agree that the Chamber may use any image of you that might appear in photographs or video taken at a Chamber event.