BAM! Now Hiring
Open Interviews Every Wednesday 3 - 6 PM!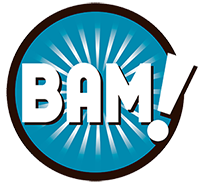 Why You Want To Join The BAM! Team:
BAM! pays employees above the going rate in every department!
Receive free training and have advancement opportunities!

Fun Fact: Our GM and two assistant GMs started at BAM in entry-level jobs!

Super flexible scheduling - life happens!
Work in a fun environment that includes free bowling (of course)!
Enjoy a fun summer company Party!
Monthly Fun Staff Events!
RIGHT NOW, BAM! has opportunities to begin working in every department. This rarely happens. We're looking for bartenders; waitstaff; arcade, laser tag and bowling counter heroes; axe throwing axe-perts; and cooks; whether you are a high school student to adult, looking for extra spending money or full-time employment.
If you know of anyone who MAY be interested in working at BAM!, please have them contact BAM!'s general manager, Michelle Tingey, Michelle@GoBamGo.com.
The West Coast Chamber often takes photographs & video during our events for use in brochures and on the Web. 
By registering you agree that the Chamber may use any image of you that might appear in photographs or video taken at a Chamber event.