New Exhibit Opening at the Holland Museum
New Exhibit Opening at the Holland Museum
HOLLAND, Michigan - The Holland Museum is announcing the opening of their newest
exhibit, Newsflash! The Story of Journalism in Holland on November 17, 2023.
This exhibit reflects on the history of local media outlets including the Holland Sentinel and
WHTC. In addition, this exhibit explores the evolution of journalism and the important role it
has played in developing the City of Holland. Many of the objects on display come from the
collection of local photographer, journalist, and historian Randy Vande Water.
"Newsflash! The Story of Journalism in Holland will highlight how journalism unified Holland
in its earliest days and how it continues to shape our community even as technology evolves,"
says Maddalena Frissora, Holland Museum's Exhibits Coordinator. "Through this exhibit
visitors will gain a deeper understanding of journalism and how it is so much more than the
news. No matter its form, journalism remains a form of storytelling that brings us all together."
The exhibit will be on display until April 8, 2024.
This exhibit is supported by Collaborator Sponsor: Horizon Bank, Partner Sponsors: Boileau &
Co. and DeNooyer Chevrolet, and Media Sponsor: WGVU/PBS TV and NPR Radio.
In addition to the exhibit, the Holland Museum will be hosting a series of exhibit-related
programming. The first in this series will take place on Thursday, December 7th at the Museum.
Join local media personalities past and present as they discuss their careers, important news
stories they have covered, and the challenges and joys of covering the news in Holland. Panelists
include Cassandra Lybrink, Gary Stevens, Lupita Reyes, and Paul Van Kolken.
For further exhibit details and to register for upcoming programming, go to
www.hollandmuseum.org.
###
About the Holland Museum: The Holland Museum's mission is Preserving Our Past,
Imagining Our Future. The Holland Museum is located at the corner of 10th Street and River
Avenue, across from Centennial Park at 31 West 10th Street. For more information, please call
(616) 796-3329.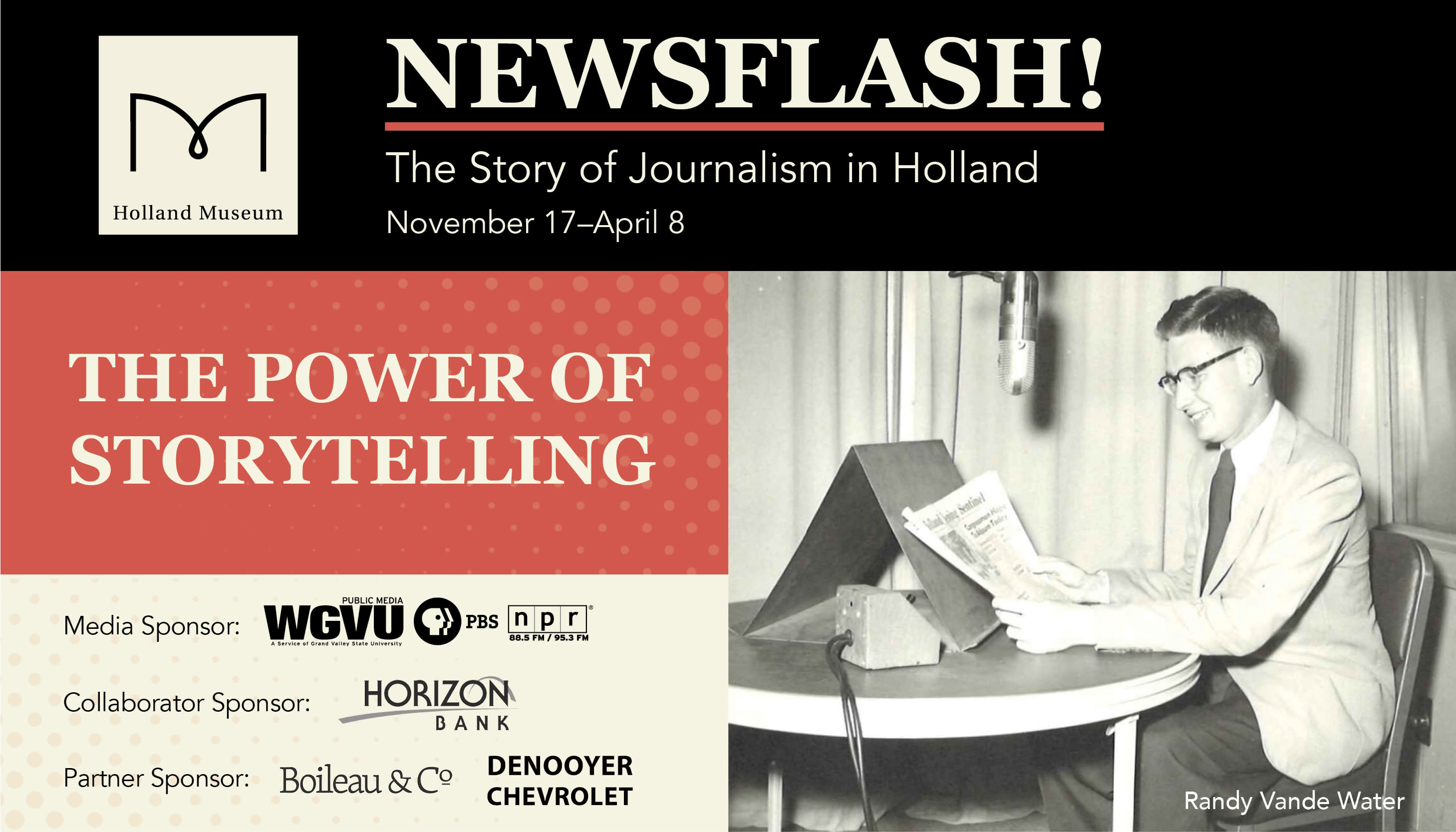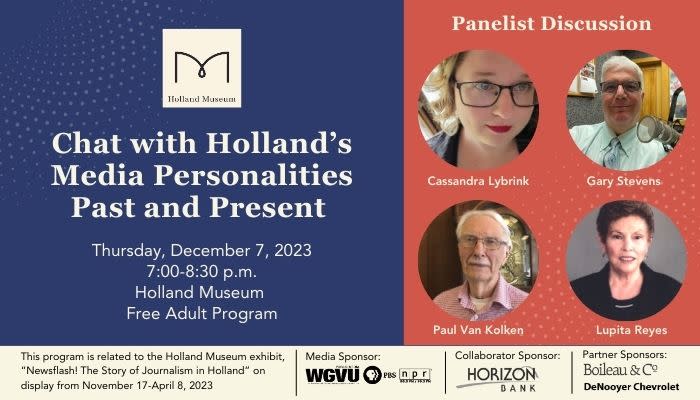 The West Coast Chamber often takes photographs & video during our events for use in brochures and on the Web. 
By registering you agree that the Chamber may use any image of you that might appear in photographs or video taken at a Chamber event.